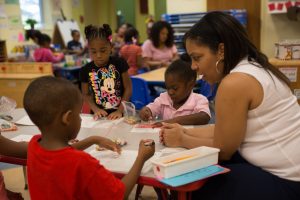 From its base in Decatur, Our House has stayed true to its mission to break the chains of homelessness by providing quality early childhood education and comprehensive support services for families who are experiencing homelessness.
Since its founding in 1988, Our House has evolved into a full-day, year-round, nationally accredited early childhood education center but its capacity increased tremendously in 2014 with a Genesis Shelter merger that added an Atlanta location which included emergency shelter for 18 families as well as additional classroom space to serve 151 children in full day learning environment.
While negotiating the merger, Our House was able to fully maintain its operations and received a two star rating from Quality Rating Systems for its Decatur site and it plans to achieve high marks at its Atlanta site.
To learn more about Our House, please visit http://www.ourhousega.org/